Feeling like home,
with the conveniences of a hotel
available for days, weeks or months
Rent a Furnished Apartments in Regensburg
Prices for our studio, 1 & 2 bedroom flats
Select your flat type to see photos, floor plans, more information or to receive a quote.
Studio
Apartment
(from 35m² | max. 2 persons)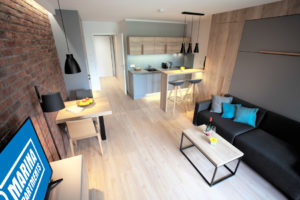 from 49€ /night
Option: underground parking 110€/month
1-Bedroom
Apartment
(from 62m² | max. 4 persons)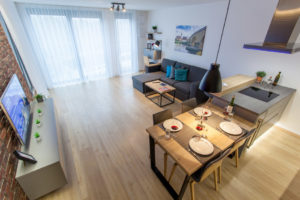 from 63€ /night
Option: underground parking 110€/month
1-Bedroom &
Rooftop Terrace
(from 74m² | max. 4 persons)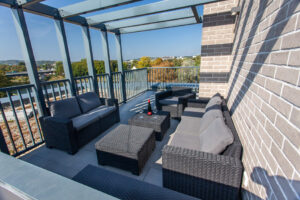 from 105€ /night
Option: underground parking 110€/month
2-Bedroom
Apartment
(from 74m² | max. 6 persons)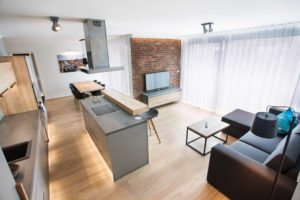 from 99€ /night
Option: underground parking 110€/month
* Price per night. The rental price already includes heating, electricity**, water,
services
and the VAT.
** The electricity costs in the amount of the average consumption according to the Federal Statistical Office are already included in the price. Additional electricity consumption is charged at the market rate.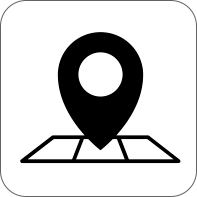 Centrally Located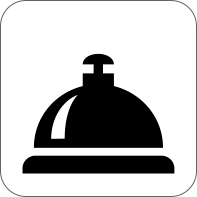 Reception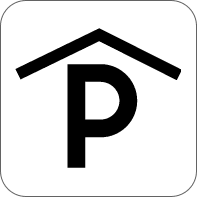 Parking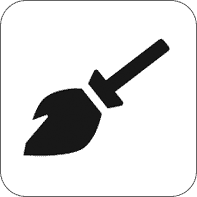 Cleaning Service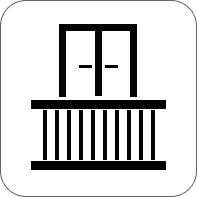 Balcony or Terrace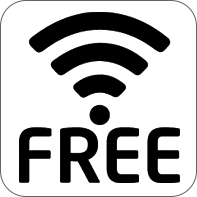 Free WiFi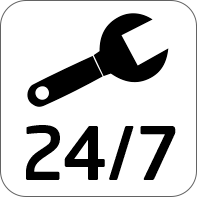 Emergency Service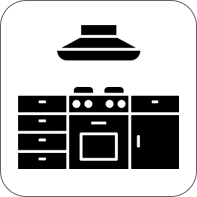 Fully Fitted Kitchen
Video Tour
Convince yourself in our video about the unique concept for the "temporary living in Regensburg". In the Marina Apartments you live centrally located, quiet and beside the Danube river. Our own underground parking spaces and a restaurant on site, give you extra comfort.
Our flexible renting periods makes it easy to prolongate your stay.
Parking
in the underground garage (extra fee)
Restaurant
at the ground level with unique terrace.
Rent from owner
no hidden comissions or costs
Additional costs included
electricity, heating, water, waste & radio licence fees included
Electric Car Charger
3 electric car charging stations in our
underground garage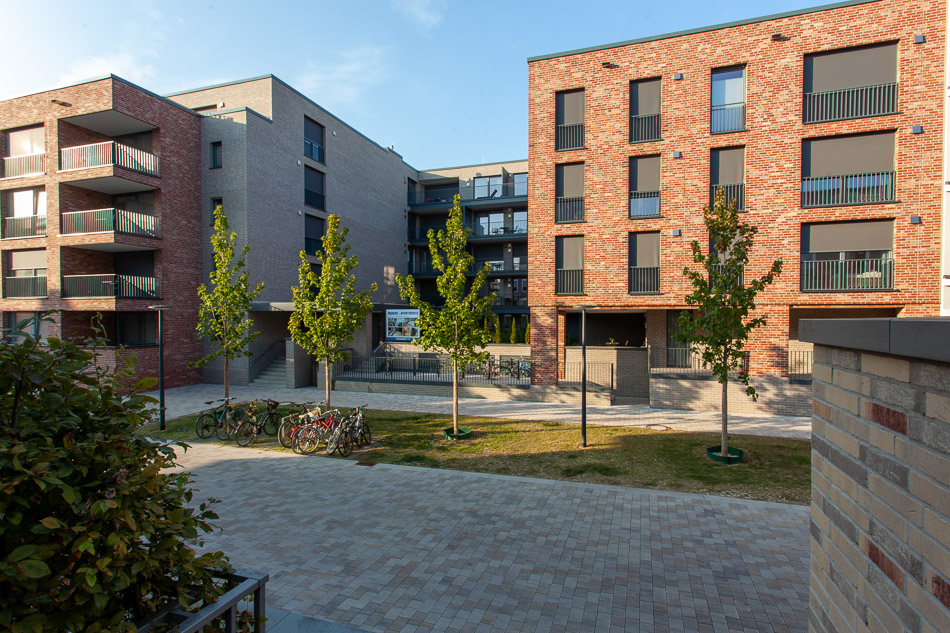 Being at home in the Marina Apartments – with the familiarity of your own apartment and the comfort of a hotel
The Marina Apartments combine both – the cosiness of your own home with the comfort of a hotel. Whether you just want to make a brief trip to Regensburg or are planning a longer stay, you can do both here. Starting from the entrance area including wardrobe, via the living area, a fully-equipped kitchen, bathroom and bedroom, all apartments also have a loggia, a patio or a garden. Some apartments even have their own sauna. And of course you will have your own parking space in the underground car park.
As soon as the door closes behind you and you are inside your own home, you are in charge, and you write the script. Knowing what is in the refrigerator, what will be cooked for dinner, and which wine will be served, all of that also means being at home. Whether receiving guests, enjoying a glass of wine on a warm summer evening, or simply putting up your feet with atmospheric indirect lighting, relaxing, and enjoying your privacy, all of that is provided by the Marina Apartments.
You will not have to do without anything, since we adapt our services to your individual wishes. Whether jointly planning to visit the city, recommendations for excursions, fresh bread rolls delivered directly to your apartment door, or our grocery shopping, cleaning and laundry service, we'll take care of it.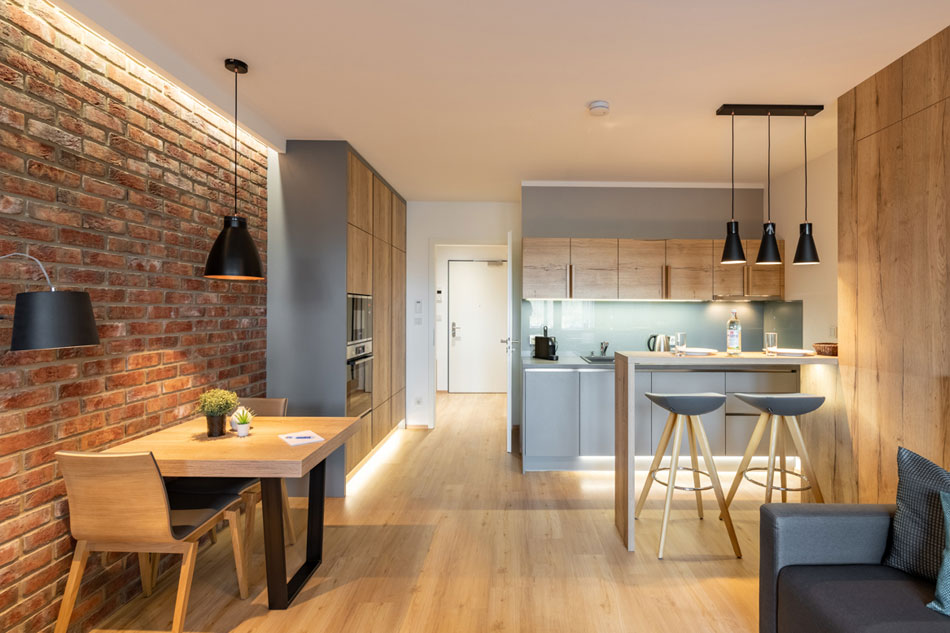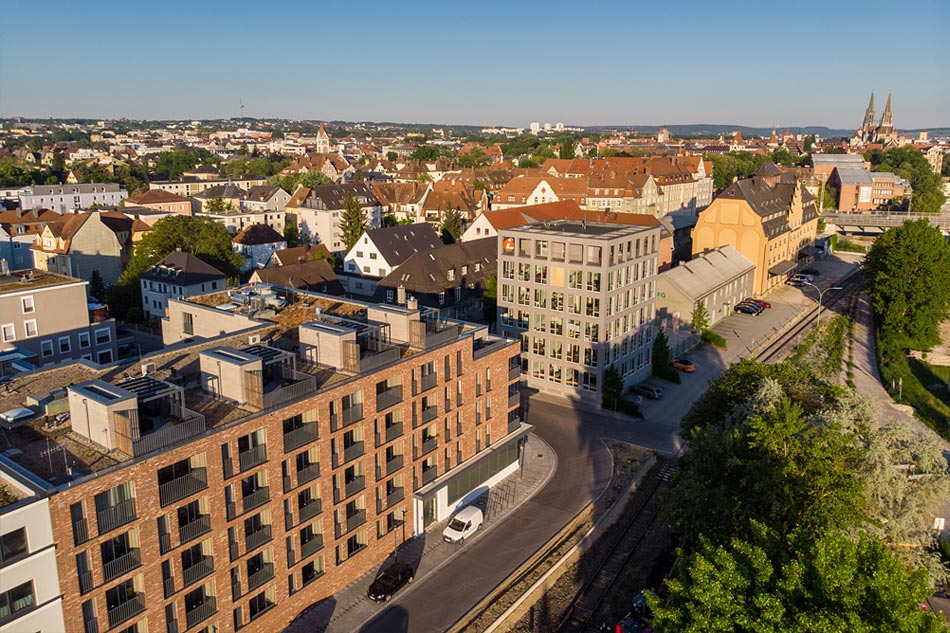 Living in Regensburg
The historic city of Regensburg inspires with its cultural offer, many sightseeing hotspots and culinary highlights. Thanks to a large number of employers and a wide range of universities, Regensburg is one of the top locations in Bavaria.
In the Marina Apartments you live close to the centre, quietly and directly on the Danube in the green in a newly developed area, the Marina Quarter. The location is perfect, because you can be in the centre of Regensburg in a few minutes by foot and in neighbouring Neutraubling in about 15 minutes by car or bus.